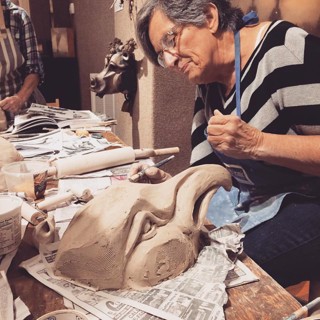 Tennessee
MLAS, Vanderbilt University
BA, Pasadena College, California
Although many images are inspiring to Nancy Jacobsohn, horses are her passion. She seeks to capture the gestures and moments of horses rather than a "realistic" portrayal of them. Ancient Chinese and Etruscan images of the horse have strongly influenced Jacobsohn's stylized images.
Despite a 20-year career in clay sculpture Jacobsohn has worked in related fields of endeavor to support her passion. She taught ten years of secondary art in high schools in California, Massachusetts, and Georgia. She also served as an Artist in the Schools, demonstrating sculpture, through the Tennessee Arts Commission and Williamson County Arts Commission.
Nancy Jacobsohn was responsible for designing and implementing Cheekwood Fine Arts Center's outreach program and redesigned and directed the Cheekwood Education Department in Nashville. As the Executive Director of Traveler's Rest, Jacobsohn wrote a Metro-Nashville Arts Commission Grant to paint a 300' mural on the railroad bridge with the Overton High school art students. She served on the board of the Williamson County Arts commission and designed their "Artists in the Schools" program. Jacobsohn has additionally served on the TACA Screening Committee (Tennessee Association of Craft Artists) and served as juror for Spring Fair. Her sculpture has been exhibited and sold throughout Tennessee, Georgia, and New York. She has received numerous prizes and awards including a purchase prize from the Tennessee All State Competition.
I don't know when the urge to create began. It seems to have always been there. It started with painting and drawing, but once I discovered sculpture, and particularly clay, I was obsessed. There is a poem by Byrd Baylor that states, "Clay remembers the hands that made it." I love the fact that you connect directly with the clay with your hands, and it responds almost like a living thing.
Read More